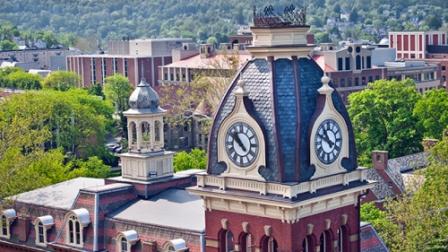 West Virginia University's
Board of Governors, acting swiftly after Monday's announcement that President Jim Clements was departing for Clemson University, passed two motions during an emergency meeting of the Board Wednesday (Nov. 13) – the first to authorize Chair James W. Dailey II to identify individuals to serve as an interim president and a second to authorize the Chair to take the necessary preliminary steps to immediately begin the national search for the next president.
Both motions were introduced by staff representative Dixie Martinelli and passed unanimously.
WVU's interim president will not be a candidate for the permanent presidency, according to the first motion. In addition, the second motion called for the development of a procedure that will govern the search process to be brought back to the Board for adoption.
After the meeting, Dailey said the interim president will need to be someone who understands that WVU's 10-year strategic plan, developed by the University community, "will continue to serve as our guide – and a source of momentum – that will carry us through this transition."
He thanked the Board for its diligence and input in the process since Monday's announcement.
"What is of utmost importance now is that we all continue to work together," he said. "We have a strong WVU leadership team in place, a great faculty-staff-student community, an active alumni, Foundation and donor base, a caring community and state, and a very engaged Board of Governors.
"Working together, we will continue to move this institution forward. After all, it's a team that makes great things happen."
Clements met briefly with the Board at the beginning of the public meeting and thanked the members for their understanding and support, and the opportunity to serve WVU.
Twelve Board members were present at Wednesday's meeting; three joined by phone and two were unable to attend.
The Board will reconvene in a special meeting at 10 a.m. Thursday, Nov. 21.
******************************************
WVU Board will move swiftly to name an interim president, conduct national search

,