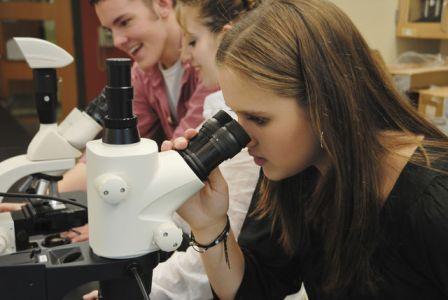 The National Science Foundation's Advanced Technological Education (ATE) program has given thousands of community college instructors the resources to develop new courses, provide professional development opportunities, and create industry-based internship programs — all with a focus in high-tech fields that produce particularly rosy employment prospects for well-trained graduates.
ATE grantees are typically educators with deep expertise in their fields — from viticulture to nanoscale manufacturing to solar power — and strong industry partnerships, based at a variety of community college settings from small rural institutions to large urban organizations. And while their content area in science is strong, many of the ATE grantees are working with a research center at UW-Madison to gain support in managing the deliverables they create with NSF dollars.
Funded initially in 2008, ATE Central, a project led by the Internet Scout Research Group at the UW, serves as an online hub for ATE projects and centers, and the successful collaboration has been beneficial for all concerned.
"Community college faculty in ATE do such meaningful work in creating new curriculum, strengthening workforce opportunities and industry partnerships," says Rachael Bower, who co-directs the project along with Edward Almasy. "But prior to ATE Central there was no common repository of all the valuable assets created with ATE funding. Our portal brings together all the curriculum and other materials in one searchable database, and archives materials so they will be available after funding for individual projects and centers sunsets."
This month, ATE Central began a second round of funding with a new, $3.4 million grant from NSF that will keep them at work for five more years providing support to the ATE community. The project includes a team of librarians, computer scientists, and generalists at the Internet Scout Research Group. Internet Scout's diverse projects combine library and computer sciences to develop a variety of curated online portals, tools and publications primarily designed for educators, as well as open-source software for creating and managing digital collections.
Beyond creating a centralized digital library for the ATE community, ATE Central helps gather best practices, provides customized tools and software and, in this next round of funding, will be connecting ATE grantees with the tools to help them determine how to fund their projects long term.
"In a needs survey we conducted in 2011, one of the big issues that came up over and over for ATE projects and centers was concern about how they could make sure the work they are doing continues after NSF funding" says Almasy. "Over the next five years, we'll be bringing the community a series of workshops and webinars focused on sustaining project and center deliverables. Our goal is always to create services and tools that respond to these kinds of community needs."
Bower and Almasy are particularly proud of the mobile app they deliver each year as part of the annual principal investigators meeting — hosted by the American Association of Community Colleges each October in Washington, D.C., and designed to bring ATE grantees together to share experiences, data and resources. This year's PI meeting, to be held Oct. 23-25, marks the 20-year anniversary of NSF's ATE program.
"It's an unbelievably collaborative community," Bower says. "People go out of their way to work together, help each other, and share expertise. All of us at ATE Central and Internet Scout are excited to be part of that for another five years."
*****************************************
Program Connects Community College Instructors in High-Tech Fields

,