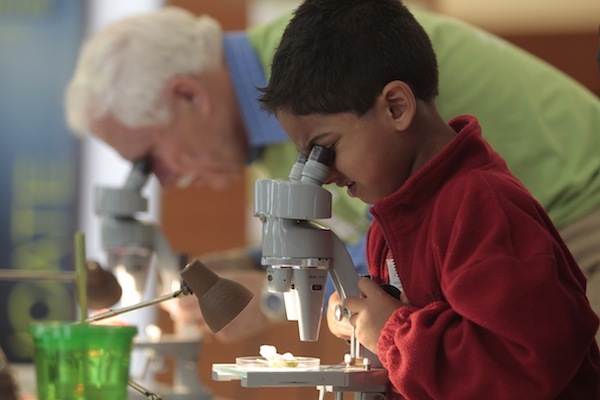 The Wisconsin Science Festival starts Sept. 26 with four jam-packed days, inviting people of all ages and interests to unleash their curiosity.
Anchored in Madison, with events also taking place across Wisconsin, the third year of this annual festival promises to be the biggest and most exciting yet.
"This is a unique, family-friendly event with something designed for nearly all ages and education levels, from kids in kindergarten through high school," says Laura Heisler, director of the science festival and programming for the Wisconsin Alumni Research Foundation. "This year, our offerings are designed to excite and intrigue everyone from the scientifically curious and technology geeks to teachers and scientists with advanced degrees."
The festival charges no admission and offers a robust mix of interesting people, music, art, food and explosions that bring the wonders of science to life. It explores the natural world in new and exciting ways, often with a local twist, as participants will see in sessions featuring the science of making bratwurst and beer.
Headliners for this year include Ira Flatow, the host of NPR's Science Friday, Nobel laureate Roald Hoffmann with artist and collaborator Vivian Torrence, Pulitzer Prize-winning mystery author Deborah Blum and noted evolutionary biologist and author Sean Carroll. Returning crowd favorites include the physics of football, live science fiction radio and a dozen activities exploring the science of food.
The festival's website lists descriptions, times and locations for activities taking place Thursday, Sept. 26, through Sunday, Sept. 29.
"The Wisconsin Science Festival celebrates science, the arts and the humanities in ways everyone can experience and enjoy," says Bassam Shakhashiri, a UW–Madison professor of chemistry and creator of Science is Fun, which is returning for its third year at the festival.
Heisler says the festival draws visitors from across Wisconsin and around the world due to its unique interactive exhibits, workshops, lectures, demonstrations and conversations with leading researchers and creative thinkers.
"Last year more than 18,000 people attended from 17 states, as well as some foreign countries. We offered 250 events in 50 venues, including 13 communities across Wisconsin," she says. "This year, we've expanded the number of events and venues and now more than 20 communities around the state are taking part."
Participating communities include Baraboo, Blue Mounds area, Eagle, Eau Claire, Evansville, Fond du Lac, Greenbush, Horicon, Janesville, Kenosha, La Crosse, La Pointe, Marshall, Milwaukee, Monona, Pewaukee, Rhinelander, Sauk City, Wausau, Whitewater and Wisconsin Dells. As last year, many of the children's museums in the state are taking part.
Most Madison-based activities are held in the Town Center at the Wisconsin Institutes for Discovery facility, with numerous events also taking place elsewhere on the UW–Madison campus, at the Madison Children's Museum, Olbrich Botanical Gardens and Henry Vilas Zoo.
The festival, which seeks to inspire, educate and develop global citizens by raising awareness and understanding of science, is produced by UW–Madison, the Wisconsin Alumni Research Foundation and Morgridge Institute for Research, with assistance from a number of other nonprofit organizations. Festival sponsors include Ballinger, Travel Wisconsin, the Alfred P. Sloan Foundation and Thermo Scientific.
*********************************************
Wisconsin Science Festival features Nobel, Pulitzer Prize winners and NPR host

,