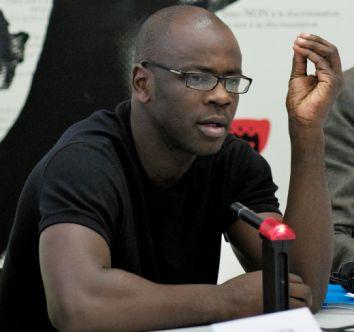 Former French World Cup star Lilian Thuram will head "Racism in Soccer," a conversation with Sports Illustrated's Grant Wahl, on Fri., Nov. 8, 6:30 p.m. at NYU's School of Law, Tishman Auditorium, Vanderbilt Hall, 40 Washington Square South (between MacDougal and Sullivan Streets).
Thuram, a defender on France's 1998 and 2006 World Cup teams, is now president of the Paris-based Education Against Racism Foundation. Wahl, also a contributor to Fox Sports Television, is the author of The Beckham Experiment. The pair will be introduced by NYU History Professor Jeffrey Sammons, author of Beyond the Ring: The Role of Boxing in American Society.
The event, sponsored by NYU's Institute of African American Affairs, is free and open to the public. RSVP at 212.998.IAAA (4222). For more information, go to: http://www.nyuiaaa.org/. Space is limited. The event is co-sponsored with NYU's Institute for Public Knowledge and La Maison Française.
EDITOR'S NOTE
The Institute of African American Affairs (IAAA) at New York University was founded in 1969 to research, document, and celebrate the cultural and intellectual production of Africa and its diaspora in the Atlantic world and beyond. IAAA is committed to the study of Blacks in modernity through concentrations in Pan-Africanism and Black Urban Studies. For more, go to http://www.nyuiaaa.org/.
***************************************************
Former French World Cup Star Thuram on "Racism in Soccer" - Nov.8

,