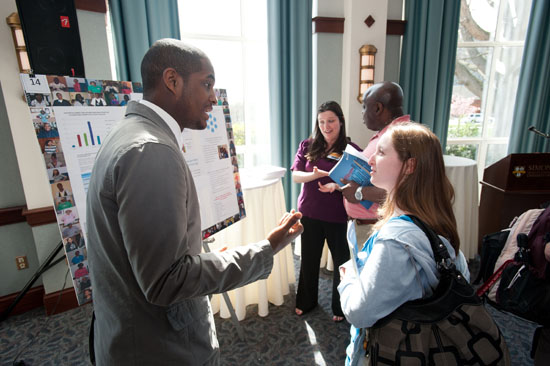 The latest in a series of alumni conferences sponsored by the Graduate School of Arts and Sciences — this year exploring Yale's contribution to conceptualizing the interdisciplinary study of the Americas — was held Nov. 7-9.
The event was titled "Interdisciplinary Americas: The Legacies of African American Studies, American Studies and History at Yale" and hosted by the named departments. Faculty on the planning committee included Matt Jacobson, Glenda Gilmore, Mary Lui, and Alicia Schmidt Camacho. The Association of Yale Alumni provided logistical support.
Nearly 200 graduate school alumni, faculty, and current graduate students participated in the event, which included seven panels focusing on the topics of "Global America/s," "Troubling the Disciplines," "Interpreting Emancipation," "Culture as an Object of Study," "Higher Education in the 21st Century," "Stubborn Sources — Adventures in the Archive," and "Interpreting Violence in American History."
In his opening remarks, Jonathan Holloway, chair of the Department of African American Studies, welcomed the alumni "home," and reminisced about his own time as a graduate student at Yale, saying: "For years now, I've found myself looking back at those days with no small measure of wonder: the friendships I made, the courses I took, the world I saw anew … I am thrilled to be home, and I hope that you are as well."
He went on to note that Yale was a leader in establishing a Department of African American Studies in 1968, and is now celebrating its 35th year of graduate studies. (In 2012, the department conferred seven Ph.D.'s, more than any other program in the United States). Current students in African American Studies, he said, "are woven throughout the fabric of the graduate school in history, English, American studies, anthropology, French, political science, sociology, religious studies, philosophy, and film studies."
The panels featured alumni speakers from across the country including Jill Lepore '95 Ph.D., the David Woods Kemper '41 Professor of American History at Harvard and a staff writer at The New Yorker; Thomas Holt '73 Ph.D., the James Westfall Thompson Distinguished Service Professor of American and African American History at the University of Chicago; Bryan Wolf '77 Ph.D., professor of American studies at Stanford University; Philip Deloria '94 Ph.D., professor of American studies at the University of Michigan; and Elizabeth Fenn '99, associate professor of history at the University of Colorado-Boulder.
Fenn, who participated in the first panel on Friday, had this advice for the audience of scholars: "Let's think big, cross boundaries, invite everyone into the room, and write like it really matters."
Naomi Lamoreaux, chair of the Department of History, said a feeling of awe came over her when she looked at the program for this conference and the list of attendees. "We'll be able to celebrate the past, present, and future of the graduate programs together." She added that more than anything else, "What I want to come out of this conference is for those who have been here in the past to come to know our current graduate students, who are our future."
****************************************************
Conference celebrates Yale's interdisciplinary strength in study of the Americas

,