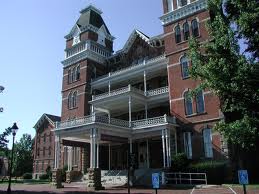 Columbus, Ohio – The Ohio State University has been named the nation's top-producing Fulbright Scholar institution and 14 in producing U.S. Fulbright students. The rankings were published this week in The Chronicle of Higher Education.
The Fulbright Program, sponsored by the U.S. Department of State's Bureau of Educational and Cultural Affairs, is the U.S. government's flagship international exchange program. It provides grants for students and scholars to study, teach or conduct research and exchange ideas in 155 countries.
This academic year, 14 Ohio State faculty members earned prestigious Fulbright Scholar grants. They will lecture, conduct research or participate in seminars abroad. The Chronicle ranks Ohio State best in the nation as a top Fulbright producer among research universities, tied with the University of Illinois.
In addition, 16 Buckeyes – recent graduates and current graduate students – will represent the United States as winners of Fulbright U.S. Student Program grants. These students will teach students around the world, sharing American culture and researching topics from physics to post-war Russia. The Chronicle ranks Ohio State 14, tied with Duke, Stanford and the University of Pennsylvania.
"The Fulbright Program is among our faculty's most important gateways to opportunities abroad," said Ohio State Executive Vice President and Provost Joseph E. Steinmetz. "Fulbright funding helps faculty members carry out work in international settings that simply can't be accomplished elsewhere. They then come back to Ohio State and share the benefits of what they've discovered with our students—many of whom, as our numbers attest, are then inspired to seek their own Fulbrights. It's a virtuous cycle that we want to encourage and nurture."
The rankings of both scholars and students are the result of an increased emphasis at Ohio State on Fulbright opportunities. Over the last four years, the Graduate School, Undergraduate Fellowship Office and Office of International Affairs have collaborated to promote Fulbright opportunities through a Fulbright Week at Ohio State program.
"Ohio State is really increasing its participation with the Fulbright and gaining national recognition for our efforts," said Dana Kuchem, who manages Ohio State's Undergraduate Fellowship Office. The office advises and assists undergraduates in applying for prestigious international scholarships and fellowships.
"I'm delighted to see that Ohio State graduate students are successfully competing for these prestigious awards," said Patrick S. Osmer, vice provost for graduate studies and dean of the Graduate School. "International experience has long been a crucial part of graduate education and graduate research, and it will be increasingly more important in this globalized world.
"Creativity, solving problems, and making and sharing new knowledge are the hallmarks of graduate education," said Osmer. "Many times, that new knowledge can be made only through research that has to be undertaken in other countries. The Fulbright programs provide critical support to graduate students who are doing this kind of work."
*****************************************
Ohio State is Top Producer of Fulbright Awardees

,