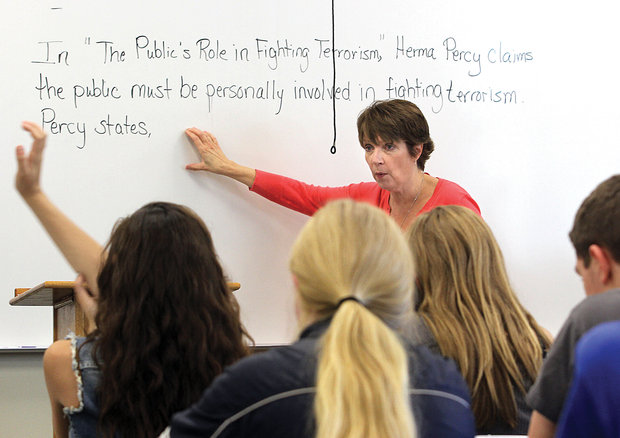 Washington's not just getting new standardized tests next year, it's getting a whole new approach to teaching math and language arts.
The Common Core State Standards are supposed to better prepare students for a college education and post-academic life by teaching them how to apply what they've learned to real life. Memorizing facts to spit out as correct test answers will be less important than knowing when to use a quadratic equation.
Kim Maldonado, who teaches freshmen and sophomores at Hanford High School in Richland, said she is already using the new standards, which require more intensive reading of non-fiction material.
"I've really had some good buy-in," she said. "I'm kind of stunned."
Mid-Columbia school districts have spent years preparing for the new standards. Some teachers, like Maldonado, are already using them, and some schools have participated in pilot runs of the new standardized tests that will debut in spring 2015.
Local district officials said they are optimistic they'll be ready. There's also hoping that the standards, unlike other past educational reforms, have permanence.
"It is frustrating to have so much change," said Chuck Lybeck, an assistant superintendent with the Kennewick School District.
Critical thinking
The Common Core State Standards are the result of an initiative started by governors who wanted consistent educational benchmarks. Washington joined the effort in 2011. Five states and Puerto Rico have not adopted the standards.
Tri-City district administrators and teachers said Washington already had good educational standards, but the new standards are meant to better prepare students for what comes after high school graduation and equally measure student performance state to state, said Kathy Hayden, executive director of curriculum and professional development for the Pasco School District.
"The reality was, it was really comparing apples to oranges," she said.
What students will learn — basic arithmetic, algebra and geometry in math and reading and writing in language arts — won't change, but how those subjects are taught and how students are tested will change, local education officials said.
In math, there will be a deeper focus on key topics such as fractions, functions and equations and seamless connections between those subjects. In language arts, there will be more emphasis on non-fiction reading and comprehension with students writing papers and reports informed by sourcing and research.
Most importantly, though, the standards aim to promote critical thinking, problem solving and real-life application of learning.
"It's skills now, not just content," said Lori McCord, director of teaching and learning for the Richland School District. "It's not just rote memory anymore."
Preparing teachers
The Tri-City school districts are each taking their own approach to prepare for the new standards and tests.
About 100 Pasco teachers sat down this summer to begin developing lesson plans based on the new standards, Hayden said. That work then will be used to train all district teachers.
Many Richland teachers already structure their teaching in a way similar to what Common Core requires, McCord said. However, the district still is training teachers, particularly in a teaching system meant to help teachers with instruction and motivating students.
Kennewick School District officials said much of their math curriculum already is aligned with the Common Core, but there's still work to do in it and language arts.
New standards, new tests
The Pasco, Kennewick and Finley districts took early swings at the new standardized tests aligned with Common Core this past spring during a pilot run. The pilot was meant to see how well the test could be applied. The state did not provide results to the districts.
"Students were very engaged in this test," said Bev Henderson, Kennewick's assessment coordinator.
But like the new standards, the tests, commonly called the SBAC (Smarter Balanced Assessment Consortium), after the group that developed them, will be different from anything given before. The tests will be computer-based and require an Internet connection. There will be fewer multiple choice questions and more long-form questions. Students will have to collaborate with their classmates on a section called a performance task, which Hayden described as a combination of a word problem and an essay.
District officials said there is heartache in changing standards and testing formats. Some teachers said it could especially be hard on struggling students and make them fall further behind because of tougher benchmarks.
"Advanced Placement is pretty much Common Core," said Bertha Rachinski, co-chairwoman of Hanford High School's English department.
But the change is necessary, said state and local education officials.
Reports from colleges and universities indicate more high school graduates need remedial classes after enrolling in their programs. State and business leaders have called for more highly trained workers, particularly in science, technology, engineering and math, or STEM, fields.
"Are we going to lower the fence or teach kids to climb?" McCord asked.
The new tests will be the third version of standardized testing to hit public schools in the state since 2009. Teachers and local education officials said that's led to a lot of moving goal posts when it comes to student performance. They said they've heard the new standards criticized as the latest fad the state will abandon when the next concept comes along.
That isn't true, said Nathan Olson, spokesman for the state Office of the Superintendent of Public Instruction.
"At the state level, we don't think this is a fad, we think it's the future," he said.
The question of money
Chuck Lybeck, Kennewick's assistant school superintendent, said his district has put a lot of money into getting ready for the Common Core standards.
There's been ongoing teacher training that will continue through this year.
And the district, as well as others in the Mid-Columbia, had to find the money for preparation work without additional support from the state.
"We've been fortunate financially that we've put a lot of money aside for teacher training," Lybeck said. "Without that, we'd be quite a bit behind."
Olson said state Superintendent Randy Dorn has pushed for more money for schools when it comes to the Common Core standards.
Dorn was critical of the Legislature when it provided only an additional $1 billion to K-12 education this summer in the state's effort to comply with an order from the Washington Supreme Court. The state superintendent wanted at least a $1.4 billion increase for the state's public schools.
"There's only so much you can ask people to do without giving them the money to do it," Olson said.
That hasn't yielded any money for needy districts, though.
Henderson said Kennewick's Ridgeview Elementary School was able to handle a pilot run of the test without any issues.
But the school has two computer labs and the testing was spread throughout five weeks, affecting when other students could use the equipment.
Tri-City officials are working to have enough computers for students to take the new online-based tests and have said smaller districts may have a harder time providing the same resources.
Moving forward
Informing the public is the next step for many districts. Lybeck said he will hold public presentations on the Common Core standards and tests in October. Hayden said she and her fellow administrators also are looking at ways to inform parents about the coming changes.
Many educators said they support the new standards. They look forward to seeing how students perform and think students will be more successful after graduation with the new standards in place.
"I think (the standards) have the potential to do that," Hayden said. "They are a step forward."
That seems to be the case with Maldonado's sophomores.
They are working on a language arts unit about "snitching," reading articles about University of Massachusetts students who knew the Boston Marathon bombers but didn't report them and the short story The Day of the Last Rock Fight about a boy who witnesses a murder and questions whether to tell anyone about it. Maldonado says the students have connected with the material.
"It's on a natural level and a personal level," she said.
******************************************
A New Approach to Teaching: Mid-Columbia Prepares for Changes in Standards

,