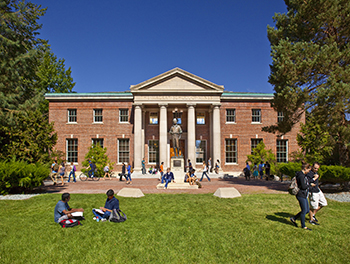 With its largest and most diverse freshmen class to date, the University of Nevada, Reno welcomed 18,776 undergraduate and graduate students to campus this fall. This reflects a 3 percent increase over the fall 2012 enrollment of 18,227. Freshmen account for 3,086 students, a 7 percent increase over last fall's 2,885 students.
Undergraduate student enrollment increased 4 percent this year from 14,675 last fall to 15,310 this fall. Graduate student enrollment decreased 3 percent from 2,894 last fall to 2,819 this fall.
Students are continuing to embrace a culture of completion as is evident with a 3.4 percent increase in full-time equivalent students, which indicates more students are taking 15 or more credits a semester. This fall, 14,830 students are taking the minimum number of credits needed to graduate in four years compared to last fall's 14,341 students.
"As the University continues to grow, it is important for us to stress student success and the students' ultimate goal of graduation," University President Marc Johnson said. "In addition to ongoing improvement of our nationally ranked programs and services, our focus in to make sure students understand what is needed to walk across the stage and receive a diploma in four years' time."
Students at the University this fall also represent the most diverse student body the campus has seen at 31 percent. This is a 10 percent increase in the last year totaling 5,849 students compared to last fall's 5,339 underrepresented population.
"We have made great progress in attracting more diversity to campus each year," President Johnson said. "Our efforts to foster students from all backgrounds are evident every day. Whether students participate in one of the many programs, services and organizations throughout campus, or they simply appreciate interacting with people from various backgrounds, our work will continue to support all students in academic and social success."
This year's enrollment numbers add to the University's progress as it recently learned it was again ranked in the top tier of the best national universities by U.S. News & World Report.
"The University of Nevada, Reno is a quality school with quality programs, services and education," Johnson said. "I take pride in what our faculty, staff and students continue to accomplish and believe we're going to see many great things to come."
*******************************************
University Student Population On The Rise with Students increasing Course Loads

,