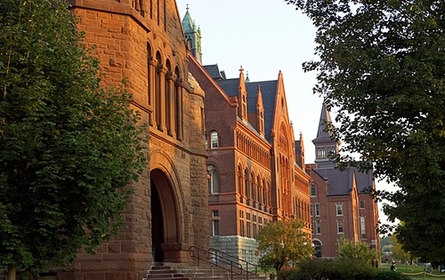 UVM students, faculty, staff, alumni, parents and friends are invited to attend this year's breast cancer conference on Friday, Oct. 4 at the Sheraton, Burlington. This event, the largest breast cancer conference in the Northeast, has content for everyone — from those who wish to learn more about breast health and cancer prevention, to patients undergoing treatment, to the physicians, researchers and caregivers who treat cancer patients and their families.
This year, there is content specifically aimed at young women and their families. Join in for one or more sessions covering topics including:
Cooking for heart and breast health.
Breast and Ovarian cancer risk reduction and early detection.
Environmental endocrine disruptors — how toxins and exposures in our environment impact our health.
Prophylactic breast surgery — how Angelina Jolie's recent choice for double mastectomy has increased scrutiny over choices around genetic testing and treatment.
Seven simple life choices to reduce the risk of cardiovascular disease.
How to care for your breasts — an interactive session for young women on breast health and making healthy choices.
The all-day event is free for all attendees; however participants may come for any portion of the day. Free coffee throughout the day courtesy of Starbucks, a raffled door prize for attendees of the young women's health session in the afternoon, as well as an optional box lunch available for purchase for lunchtime sessions are all available to attendees.
Walk-ins are welcome, but, pre-registration by Sept. 30 is strongly encouraged. Learn about the more than 70 sessions offered, and register online.
To learn more about the Vermont Cancer Center at the University of Vermont and Fletcher Allen Health Care, visit www.vermontcancer.org.
**********************************************
Free Public Breast Cancer Conference Slated for Oct. 4

,