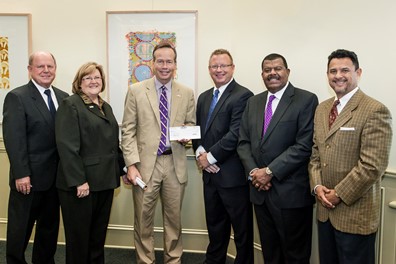 BATON ROUGE – In an effort to reduce costs, LSU has entered into a partnership with OfficeMax as the office supply vendor for the university through LSU GeauxShop. This five-year partnership agreement will help LSU to realize lower costs, take advantage of greater discounts and have the ability to analyze purchases so that more savings can result for volume leverage.
On Friday, Oct. 11, representatives from OfficeMax visited campus to deliver LSU's one-time signing incentive of $500,000. In addition, OfficeMax has donated a $2,000 scholarship to LSU for each year of its contract and has sponsored an internship through the E. J. Ourso College of Business.
LSU GeauxShop, the university's new electronic procurement system, is transforming the way goods and services are purchased at LSU, by providing campus employees with an electronic procurement system that is easy to navigate and intuitive to use, resulting in an easier and faster procurement and payables process.
The system operates in much the same way as typical Internet shopping sites, such as Amazon.com. The system is designed to be a one-stop-shopping environment that is user-friendly and intuitive. It is also expected to increase the university's spending power by consolidating LSU's overall spend and enabling the university to get better prices from vendors.
*******************************************
LSU Partners with OfficeMax to Reduce Office Supply Costs

,