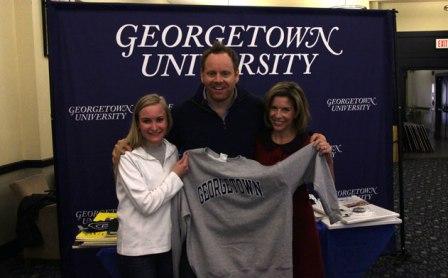 Talk show host Katie Couric will feature on national television next Thursday Georgetown's support for a local organization that helps African-American boys and young men in need.
The Katie Couric Show episode will highlight the university's work with its 2013 John Thompson Legacy of a Dream Award recipient, Mary Brown, and her Washington, D.C., organization, Life Pieces to Masterpieces.
The organization that Georgetown now partners with provides a home away from home to hundreds of young black males growing up in the most volatile neighborhoods in the city.
The partnership has thus far led to students volunteering as tutors, providing help with Life Pieces' curriculum development and serving as a site for Life Pieces' Saturday Academy for teens.
The TV segment filmed on campus today is for the show's "Challenge for Change" series, which invites communities to fulfill the holiday wishes of local non-profit organizations.
Georgetown is helping collect art supplies for Brown's organization, which uses art as one of many mediums to teach character development, integrity and leadership skills.
Donations also will be accepted tonight at the Verizon Center, where the Hoyas men's basketball team is playing against Wright State University.
Cameron Hughes, special correspondent for The Katie Couric Show, spent time talking to students, faculty and staff donating art supplies for the Nov. 21 segment.
Hughes also interviewed Lauralyn Lee, associate vice president for community engagement and strategic initiatives, and Mellie Corrigan (C'14), a history major from Atlanta and a leader with Georgetown's Center for Social Justice, Research, Teaching and Service.
"This was an important opportunity for Georgetown to support a valuable partner and to highlight on a national scale our commitment to our Washington, D.C., community," Lee said.
******************************************
Katie Couric to Feature Georgetown Work with Local Organization

,