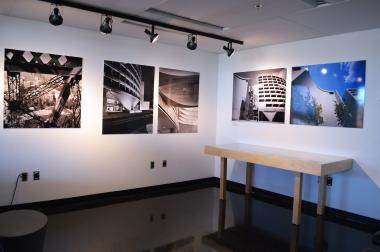 "Architecture is as much a part of the realm of art as it is of technology – the fusion of thinking and feeling," once said the late Harry Seidler, a renowned Australian architect of the 20th century.
"Harry Seidler: Architecture, Art and Collaborative Design" is an exhibition of Seidler's work – from photographs to sketches – presented by the University of Virginia School of Architecture in collaboration with the Austrian Cultural Forum in Washington, D.C. The exhibit is running through Dec. 4 in the Elmaleh, Corner and Naug galleries in U.Va.'s Campbell Hall.
The Austrian-born Seidler is considered to be one of the leading exponents of Modernism in Australia and the first architect to fully express the principles of the Bauhaus in Australia.
In architecture, Modernism roughly spans the time between World War I and the early 1970s, utilizing concrete, glass and steel and eschewing the ornaments of Victorian styles. A German school of design from 1919 to 1933, Bauhaus was established by architect Walter Gropius, and was marked by an emphasis on functional design with an aesthetic influenced by techniques and materials employed especially in industrial fabrication.
As he embraced these architectural styles, Seidler's influence spread well beyond Australia. In addition to many of the buildings of the famous skyline of Sydney, he also designed the Australian Embassy in Paris, the Hong Kong Club in Hong Kong and Wohnpark Neue Donau, a large residential community in Vienna.
Esther Lorenz, lecturer in the U.Va. architecture department, oversaw the effort to bring to U.Va, the traveling exhibit, which has also been presented in Estonia, Bulgaria, Latvia, Australia and elsewhere in the U.S.
"Seidler is an important contributor to modern architecture, yet he is very little known in the U.S.," she said. "This exhibition presents a carefully curated collection of photographs, models, videos, sketches, letters and other artifacts.
"It highlights Seidler's mastery of material and structure, his collaborative design approach and his constant adaptation to technological advances, regional differences and social change."
The strong international component of Seidler's legacy makes him a good match for the global perspective deeply ingrained in faculty and student work at the School of Architecture, Lorenz added.
The 15 featured projects – five houses and five towers in Sydney, and five major commissions beyond Sydney – focus on Seidler's lifelong creative collaborations – a pursuit he directly inherited from Gropius – with progressive artistic visionaries such as architects Marcel Breuer and Oscar Niemeyer, engineer Pier Luigi Nervi, photographer Max Dupain, as well as artists Josef Albers, Alexander Calder, Norman Carlberg, Sol LeWitt, Charles Perry, Frank Stella and Lin Utzon.
Curator Vladimir Belogolovsky presented an opening lecture on Nov. 8. He is the founder of New York-based Intercontinental Curatorial Project, which focuses on organizing, curating and designing architectural exhibitions worldwide.
The Intercontinental Curatorial Project developed the Seidler exhibition with Penelope Seidler, the architect's wife, along with Harry Seidler & Associates in Sydney..Herself an architect, Penelope. Seidler joined Seidler & Associates in 1964 and now is its director.
The exhibit presents Seidler's work through architectural models, sculpture maquettes, photographs, films, correspondence, books, scrapbooks, periodicals, drawings, original sketches and other items.
This material was provided by the architect's family, Historic Houses Trust of New South Wales, The Josef & Anni Albers Foundation, The Marcel Breuer Digital Archive at Syracuse University and the private archives of artists Norman Carlberg, Charles Perry and Lin Utzon..
************************************************
U.Va. School of Architecture Exhibits Work of Leading Australian Architect

,