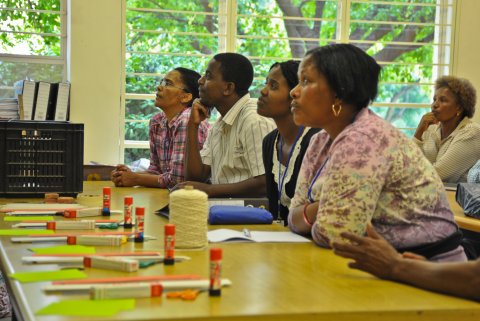 Guam - The schools of the Guam Department of Education ("GDOE") have been receiving training, October 23-25, 2013, on the accreditation process from the Western Association of Schools and Colleges ("WASC").
The training is taking place in the Media Center at John F. Kennedy High School.
The accreditation process provides schools with a framework for improving the teaching and learning process and is referred to as "Focus on Learning."
Each cycle runs a course of six years, and schools must complete a self-study indicating what practices aretakingplace atthe school. A WASC accreditation team then schedules a visit to schools to examine their approaches to improving student learning, strengthening instruction, supporting personal and academic growth, and managing resources.
GDOE has worked collaboratively with WASC to train school administrators on accreditation, especially those administrators who are relatively new to the WASC process. "It's important that our administrators be prepared to lead schools through accreditation and help build the capacity to sustain effective practices," said Superintendent Jon Fernandez. "We are grateful to WASC for their continued support and assistance."
Schools are either preparing for a full self-study visit — meaning the school is seeking renewal of its accreditation — or they will be receiving a mid-cycle visit to demonstrate progress. The three day training will involve the following schools:
October 23, 2013                                  October 24, 2013                     October 25, 2013
Full Self-Study Visit 2014                    Full Self-Study Visit 2015       Mid-Cycle Visit
SSHS, AJMS, IMS, UMS, FES,           DLPES, PCLES, TAMES       GWHS, JFKHS, OHS, FBLGMS,
LBJES, WES                                                                                                         JRMS, OMS, UES
GDOE Schools Seeking
Accreditation
Superintendent Fernandez acknowledges that in order for GDOE to improve the product our public schools produce, a focus needs to be placed on the students. "I want all of our public schools to be accreditedbyWASC,"saidFernandez. "As we continue to concentrate our attention on our students, this process of improvement will help us in fulfilling our mission."
*********************************************
"Focus on Learning" Training Provided to Public Schools

,