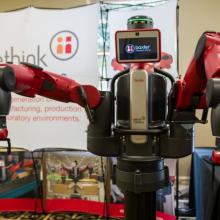 Some of the most sophisticated and advanced robots in the world have arrived on campus for the IEEE-RAS International Conference on Humanoid Robots (Humanoids 2013) at the Historic Academy of Medicine at Georgia Tech. The international event is focused on trends and technology for humanoids in the real world. The three-day conference, from October 15-17, features demonstrations, lectures and tours of Georgia Tech robot labs.
Georgia Tech Assistant Professor Mike Stilman is the general chair for the conference. "This is a very exciting event both for the history of robotics worldwide and for education in engineering for all kids excited about new technology," he said.
The demonstrations include Rethink Robotics' Baxter robot, NAO from Aldebaran and South Korea's Robotis.
Georgia Tech's Ronald Arkin, a Regents Professor in the College of Computing, is hosting one of the conference's three plenary sessions. He will focus on the ethical questions surrounding the potential creation of robotic platforms with lethal autonomy during a presentation titled "How to Not Build a Terminator."
"Given the present pace, direction and funding of humanoid technological development, it seems that the science fiction vision of a Terminator robot is becoming more of a reality," Arkin said. "Many researchers, perhaps unknowingly or unwittingly, are providing the capabilities to achieve such a platform."
Other plenary sessions will discuss how to transfer human skills to robots and structuring robotic thought and action through language in a new form of dialogue.
This is the first time in three years the annual event has been held in the United States, and the first-ever time in Atlanta. The week will conclude with DARPA's Robotics Challenge (DRC) Trials Preview Meeting on Friday, October 18, which will provide further details on the DRC Trials in December.
"This is a very special year for humanoid robotics across the world," Stilman said. "The Robotics Challenge is leading robots that function as first responders to enter dangerous situations, such as Hurricane Katrina and Japan's Fukushima Daiichi nuclear disaster. Humanoids with human and super-human capabilities will assist in future rescue missions, saving the lives of both disaster victims and rescue workers."
******************************************************
Humanoid Conference Gives Campus a Look at Robotic Future

,