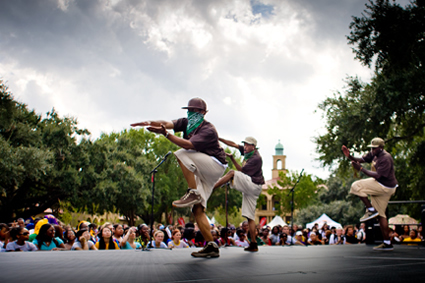 BATON ROUGE – One of the most anticipated events of the fall semester will take place today from 11 a.m. to 2 p.m. on the LSU Parade Ground as the LSU Fall Fest celebration welcomes back more than 30,000 new and returning students, faculty and staff to campus. This year, Fall Fest moves from the LSU Quadrangle to the LSU Parade Ground, adds an hour of celebration and hosts a live hour of music by the CJ Solar Band.
The annual event begins with the entrance of The Golden Band from Tigerland, LSU Golden Girls and LSU Cheerleaders and a welcome from LSU President and Chancellor F. King Alexander, LSU Executive Vice Chancellor & Provost Stuart Bell, LSU Vice Chancellor for Student Life & Enrollment Kurt Keppler and Student Government President John Woodard on the stage.
Following performances by the band, LSU spirit squads and the Tiger Girls, LSU student organizations will host a step show with performances by several LSU fraternities and sororities and the Legacy Dancers.
More than 60 tables representing both campus units and area businesses sponsoring the event will be set up along the Parade Ground tree line nearest the LSU Student Union and along Highland Road. The booths provide information and giveaways, while several games and activities will also be available, including University Recreation's rock climbing wall.
Those students, prospective students, faculty and staff in attendance will be served their choice of free hamburgers, sausage po-boys, vegetarian burgers and chips at the food court located near the middle of the Parade Ground with proof of Tiger Card LSU ID or kickoff LSU prospective student event wristband. Additional items, including popsicles from LSU Dining and ice cream from the LSU AgCenter Dairy Store, will be available in the booths along the edges of the event. Local vendors will also be giving away various food and drink items.
Continuing with the eco-friendly efforts of the Green Tiger Project at LSU, Fall Fest participants will be encouraged to recycle their waste in marked receptacles.
While not all items being distributed by sponsors during the celebration will be recyclable, everything supplied by the university at the main food tents is recyclable.
LSU Fall Fest is made possible thanks to generous donations to the university by presenting sponsor Campus Federal Credit Union, along with additional funding from Burbank Commons, ExxonMobil, Raising Cane's Chicken Fingers, Shell, The Cottages of Baton Rouge, U Club Cottages and University Crescent sponsorships. In addition to providing funding for Fall Fest, a portion of these sponsors' donations – a total of $5,500 – was contributed to the LSU general scholarship fund. Additionally, in-kind donations were made to LSU Fall Fest by the Baton Rouge Coca-Cola Bottling Company, LSU Dining and Magnolia Canteen.
**************************************************
Students, Faculty and Staff Invited LSU's Annual Fall Fest Today

,