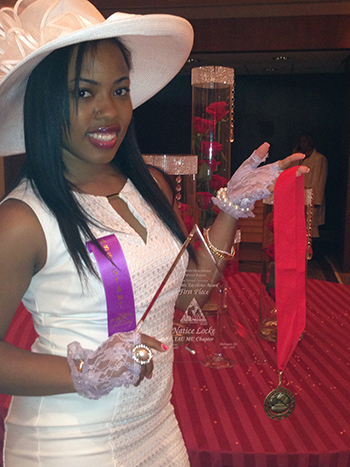 Fraternity and Sorority Life at the University of Nevada, Reno has a lot to celebrate. After completing their most successful recruitment this fall, fraternity and sorority enrollment is larger than ever with 1,300 students actively participating in Greek organizations on campus. With the school year in full swing, some campus fraternities and sororities are also touting their chapter's most recent national successes.
Natice Locke, a senior majoring in pre-law, was recognized as having the highest grade-point average (GPA) in the Farwest Region of her sorority, Delta Sigma Theta. Locke, who also played clarinet in marching band her freshman and sophomore year, serves on a national committee for Delta Sigma Theta. When asked about her recent recognition, Locke said she was surprised.
"My education is the most important pursuit in my life," she said. "While I always strive for academic excellence, it is something I do for myself. I never thought I would be recognized and certainly was not expecting to have the highest GPA in the region. It is nice to be recognized for my dedication to scholarship and I am truly honored."
Elliot Malin, a senior political science and international affairs major, was elected supreme undergraduate governor for Alpha Epsilon Pi (AEPi). A University founding member, Malin also received the Nehemiah-Gitelson Medallion for Enhancing Jewish Life. The undergraduate supreme governor position is an elected position at every International Convention of AEPi. Malin was elected one of the two undergraduate representatives to the supreme board, which is the controlling board of the entire fraternity. It is the highest position that can be attained by an undergraduate during his time. The Nehemiah-Gitelson Medallion is an honor reserved to those brothers of the fraternity who work to espouse the values as the Jewish fraternity through everyday life, and to promote Jewish heritage on campus.
"I believe in the Greek system and in the values we are supposed to learn and take with us for the rest of our lives," Malin said. "I founded my chapter here, and want to see it succeed more than anything. It gives a lot of people the opportunity they need to succeed and I believe it builds us into better men and women if we take from it the lessons we are supposed to learn. For me personally it's given me everything I have here; between being vice president of the student body, or just being academically successful. It's given me a million different opportunities that I hope I can one day repay."
Alpha Tau Omega received a True Merit Honorable Mention, which was the highest award available to the chapter. True Merit is a designation given to chapters who excel in community service, philanthropy, academics and brotherhood. It serves as an award for their overall success. The chapter also received The Academic Excellence award, which signifies the hard work of its members and their focus on academics to emphasize graduation as the ultimate college goal. This award was given to the chapters with the top-50 GPA's in the country. Both recognitions were designated by the national headquarters of Alpha Tau Omega.
Phi Delta Theta - Nevada Alpha was awarded a community service citation in recognition of the fraternity's efforts doing recycling cleanup after football home games. The recognized effort took place in fall 2012 however the fraternity continues its work by offering their assistance in cleaning up the stands after each home game this season.
"The ongoing recognition received by fraternities and sororities at the University signifies the positive contributions they offer to the student experience," Dennis Campbell, Fraternity and Sorority Life coordinator at the University, said. "They provide a sense of community which contributes to retention. They support academic, civic and leadership development of their members, and they connect students to a valuable network of alumni and professionals."
***********************************
University Fraternity and Sorority Life Members Receive National Recognition

,