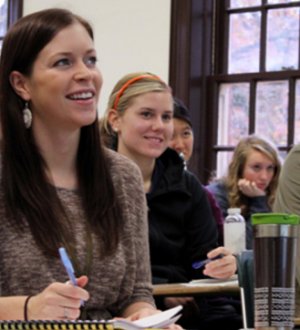 EUGENE, Ore. -  The University of Oregon continues to climb in the annual results of the U.S. News & World Report Best Colleges rankings announced today.
The UO ranking — no. 53 among 173 ranked public research universities, and no. 109, along with two other institutions, on the list of "Best National Universities" — puts the university in the top eight percent of the institutions evaluated by U.S. News (1,376), and first among public institutions in the state. The overall ranking is an improvement of six positions from no. 115 last year.
"The University of Oregon is an outstanding public research university with a great faculty and terrific student body," said Michael Gottfredson, UO president. "It's a great place to go to school, and we are continually working to further elevate the undergraduate experience."
"Access, affordability and quality are all important at the University of Oregon," said Roger Thompson, UO vice president for Enrollment Management. "The UO has enrolled successive classes with record-breaking grade point averages and test scores, as well as record levels of socioeconomic, racial and ethnic diversity. And our students are thriving at a top-tier research institution."
According to Thompson, early estimates are that the incoming class will again set records for high school grade point average and ACT/SAT test scores when final enrollment data is available.
U.S. News & World Report also included the UO's Lundquist College of Business in the 50 "Best in Undergraduate Business" list for the fourth year. Lundquist ranks no. 47 with 11 other institutions.
*******************************************
U.S. News ranks the University of Oregon higher on list of "Best National Universities"

,