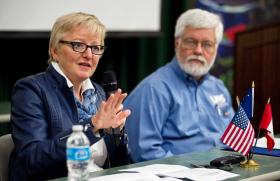 University of Alaska Southeast Chancellor John Pugh and Yukon College President Karen Barnes met Saturday morning to sign an agreement that the schools will collaborate on programs and courses of study in the coming years. The meeting was a part of the Juneau World Affairs Council's Al-Can Summit at UAS. The summit spanned Thursday through Saturday and explored topics affecting Alaska and Canada.
Barnes said the schools have already been working together on programs for a while, but signing the pact is a "step to force us back to the discussion table."
Pugh said the colleges make a good team because their setups are so similar to each other, but both are also unlike most other schools. Because of the lack of community colleges in Alaska, there is "no other university in the U.S. that has the same breadth that we have," Pugh said. UAS offers everything from occupational training to master's degrees. "We have the full spread. (Yukon College has) developed the same kind of thing."
The two schools are heavily reliant on e-learning, distance learning via the Internet, to serve similarly rural student populations. Barnes said one of the issues Yukon College faces is the unwillingness of many college-age people to move to Whitehorse, the territory's capital and the location of the college's main campus, to complete their course of study in four years. The college has 13 campuses across the territory.
"They would rather stay in their community and study and continue to work," Barnes said.
Yukon College wants to develop an incentive program to "get them hooked into the education system and maybe they'll feel more inclined to come in and leave their communities for a short period of time."
UAS' four-year graduation incentive program, Stay On Track, offers $500 to sophomores, juniors and seniors enrolled in 15 credit hours at the start of each school year. This encourages students to finish school and get into the work force more quickly, Pugh said. Retention is a problem at the university; UAS has a 35 percent four-year graduation rate, he said.
"Retention is not easy; Alaska is dead last in our graduation rates," Pugh said.
To attract more students to college, and eventually graduate, UAS recently signed on to head up the Alaska Learning Network, a program that helps K-12 schools across the state provide students with courses to prepare them for college. An unfortunate trend is developing, Pugh said: Alaska's relatively young teachers are coming to work inexperienced in science and math, and schools are unable to provide courses that prepare students for college.
Barnes said the Yukon has similar problems. Another challenge Southeast Alaska and the Yukon share is providing adult education options. Pugh said the university is engaged in a "big, robust debate" about how to adequately educate the older population who can't afford to go to school full-time.
"We think there's an opportunity there to mine that field and bring them back," Barnes said of Yukon College's adult education efforts. "You're going to have to meet them where they're at."
• Contact reporter Katie Moritz at [email protected] or at (907)523-2294. Follow her on Twitter at twitter.com/katecmoritz.
**************************************************
UAS, Yukon College Heads Sign Collaboration Agreement

,