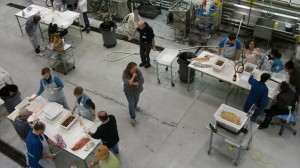 School of Fisheries and Ocean Sciences faculty members will be teaching a three-day workshop on smoking fish Aug. 28 – 30 at the University of Alaska Fairbanks Kodiak Seafood and Marine Science Center.
"We are teaching the basics," said Brennan Smith, one of four workshop instructors. "Smoking seafood safely and effectively, as well as learning the key factors that influence what makes a palatable seafood product, are the emphasis."
The workshop will cover a variety of topics, from food safety and microbiology to principles of smoking and measuring salt content.
"After a half-day of classroom time there will be two-and-a-half days of handling, brining and smoking fish. We coach them but participants do the work," said Smith. Both hot- and cold-smoking techniques will be taught along with making ikura, a light-smoked sockeye salmon roe, and making salmon sausage. Fish will be provided.
The information is basic enough to be relevant to any type of fish. Past participants have come from as far away as North Carolina, where a couple applied what they learned to farm-raised sturgeon. Smith said, "People in rural Alaska using traditional methods of smoking can also benefit from the curriculum, in learning about technologies and the science for making safe brines.
"The first step in smoked fish safety is the salt content to prevent listeria and botulism," said Smith. "Beyond that, there are thousands of methods to make smoked fish; those being taught include types of wood, amount of smoke and fish oil content. The higher the oil content the easier it is for the smoke to get in."
The workshop will be taught in the Kodiak center small pilot plant using both professional equipment and home smokers. The course is for people who want to smoke fish at home as well as those who want to take the next step toward marketing their smoked fish.
"We live in a seafood-based community. Alaskans are just interested in doing more with their products, said Smith, "And they will leave with a fair amount of smoked fish."
Sign up for the August 28-30 session by visiting the smoked fish workshop web page. The same content will be taught at a September 4-6 workshop on smoking fish, but that workshop is already full. This workshop is sponsored by Alaska Sea Grant Marine Advisory Program.
*********************************************
Sea Grant Hosting Fish-Smoking Workshop in Kodiak

,