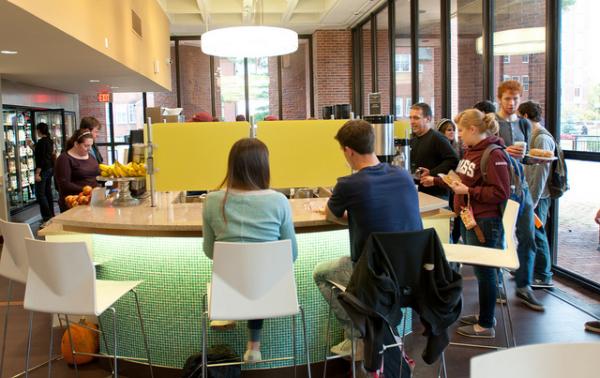 AMHERST, Mass. – Procrastination Station, the café in the W.E.B. Du Bois Library at the University of Massachusetts Amherst, has won Food Management magazine's Best Concept Award for Best Convenience Retailing Concept. The café is a joint project between the library administration and Auxiliary Enterprises.
The newly renovated Procrastination Station opened last September on the first floor of the Du Bois Library and draws 1,800 customers daily and is open 24 hours a day from Sunday to Thursday with other hours Friday and Saturday. The café offers a menu of salads, hot and cold sandwiches, including breakfast sandwiches served round the clock, baked goods and gourmet hot and cold beverages, all made with natural and organic ingredients. There are also organic hand and cut fruit selections as well as organic bars and vegan/vegetarian packaged meals.
"It is one of the most successful retail operations we have on campus and serves as a model for other schools to follow," says Ken Toong, executive director of Auxiliary Enterprises at UMass Amherst. "The food we offer at Procrastination Station is a perfect match for the location and customers. We are using local, natural and organic ingredients to produce food that is freshly prepared, with a gourmet beverage program. Our customers love the location for the convenience and great food."
Food Management's annual awards program recognizes exceptional achievement and innovation in key areas of noncommercial foodservice, as judged by the magazine's editorial staff. Categories range from initiatives in new and renovated foodservice facility design to menu innovation, wellness initiatives, special event planning and convenience retailing.
The awards will be featured in a special editorial section of the August issue of Food Management and will be presented at the Penton Restaurant Group's annual MUFSO conference, to be held Sept. 29 to Oct. 1 in Dallas.
********************************************
UMass Amherst Wins Award from Food Management Magazine for Library Café

,