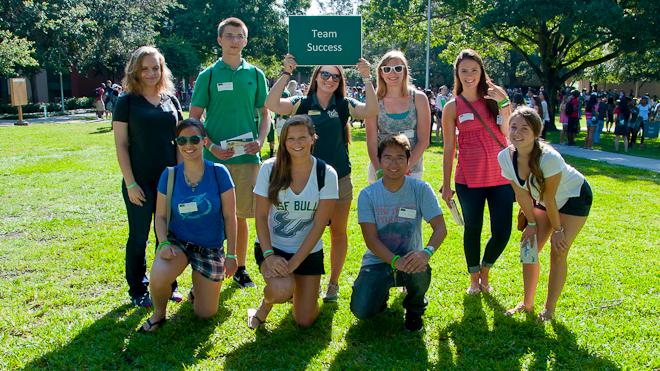 TAMPA, Fla. – USF Associate Professor Maya Trotz studies the intersection of engineering and technology with the development of sustainable communities. For the last year the crossroads of her work have been in the Caribbean, where she led an effort to transform how science, technology, engineering and math is taught throughout the region.
The initiative culminated in a week-long event that brought 12 students and 12 teachers from 12 Caribbean nations to the University of South Florida to see STEM education in action at the highest levels in addressing such critical global issues as sustainability, water resources, clean energy and nanotechnology. The students and teachers were winners of the SAGICOR Visionaries Challenge and for many of them this was their first visit to the United States.
Trotz is a founding member of the Caribbean Science Foundation and she spent her sabbatical this past year working to upgrade STEM curriculum in multi-faceted partnership.
The Sagicor Visionaries Challenge is aimed at secondary school students who are encouraged to identify a challenge facing their respective country and present a sustainable solution. Approximately 50 projects in the competition were mentored by USF faculty, graduate students and alumni.
"We're actually trying to build the institutional capacity in the Caribbean. When students actually propose their projects, we match them with mentors - mentors that could be local or anywhere in the world," Trotz said. "Some of the students involved, the mentors have gone to visit some of the schools that participated and are looking at how you actually further some of the projects."
The winners from each Caribbean country competed in the final competition in Barbados, with the prize of a seven-day all expenses paid STEM Ambassador Program trip to Florida. The participating countries are Anguilla, Antigua and Barbuda, Barbados, Belize, Dominica, Grenada, Guyana, Jamaica, St. Kitts and Nevis, St. Lucia, St. Vincent and the Grenadines, and Trinidad and Tobago.
Three graduates of USF's environmental engineering Ph.D. program who also come from the Caribbean: Trinidadian-born Ken Thomas, who now teaches at Auburn University; Guyanese-born Kofi Dalyrmple; and Haitian-born Prony Bonnaire, who wants to expand the program to Haiti. Lilia Abron, founder of Peer Consultants and the first African-American women to earn a PhD in chemical engineering in the United States from the University of Iowa in 1972, sponsored multiple energy-related projects. Abron is a member of the USF College of Engineering advisory board.
The program is all part of International Summer Camp sponsored by the Museum of Science and Industry. In addition to USF, students and teachers also visited the Kennedy Space Center and Disney's Epcot.
"It has been an exciting learning experience. My favorite part of the trip so far has been building the Lego NXT robots at MOSI. My team came in first!" said Teshanna Mohammed, 15, a student at Naparima Girls High School in Trinidad.
Teacher Sarah Balgobin said that student interest in science, especially by girls, is at an all-time high in the Caribbean.
"Our school admits 700 students and we can't fit all the applicants in," she said.
One of Balgobin's former students, Trina Halfhide, is now a doctoral student in environmental engineering at USF. She described Halfhide, a Fulbright Scholar who is originally from Trinidad and Tobago, as one of the most dedicated students she has ever taught.
As a result of the challenge, Dr. Trotz selected three Sagicor winners who were sponsored by the Emerson Collective, headed by Laurene Powell Jobs (widow of Steve Jobs), to attend Malala Day on July 12 at the United Nations in New York City. Malala Yousafzi is a courageous advocate for universal education and girls' rights. July 12, Malala's 16th birthday, was supported by the U. N. Secretary-General's Global Education Frist Initiative which aims to have all of the world's children in school and learning by 2015.
************************************************
USF Professor Driving Force in Caribbean STEM Education Initiative

,