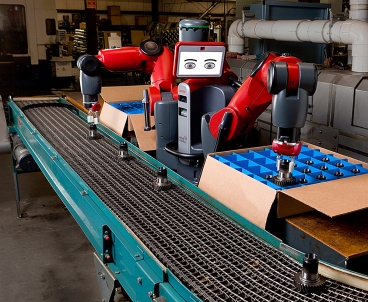 Professor emeritus Rodney Brooks gained fame in the 1990s for co-founding iRobot, an MIT spinoff that brought the world the Roomba and other innovative, helpful robots. He's since moved on to robots that are bigger, but no less revolutionary.
Brooks' newest startup, Rethink Robotics, headquartered in Boston, is producing robots that can work safely in factories alongside humans and demonstrate "common sense," adapting to their tasks and environment.
Rethink's first commercial model, Baxter, released in January, is a human-sized, two-armed robot that can be programmed to learn repetitive production tasks: material handling, testing and sorting, light assembly, and packing and unpacking. Any worker, tech-savvy or not, can program Baxter by moving the robot's arms — demonstrating the desired tasks and locations — and pressing buttons on a control panel.
The robot's "face" — eyes and eyebrows displayed on an LCD screen — indicates its status and where its attention is focused. Sensors on the robot's "head" allow it to recognize when people are nearby, and sensors on its joints allow it to reduce the force of impact should it detect a collision — valuable, and novel, safety features.
"Baxter changes its movements to accommodate the world. That's a revolution in robots for manufacturing by itself," says Brooks, a former director of MIT's Computer Science and Artificial Intelligence Lab and now Rethink's chief technology officer. "And the fact that it's aware of people and safe to be around people is another revolution in the manufacturing environment."
As importantly, Brooks says, Baxter is built from parts manufactured in the United States. (Rethink's Boston office works on quality assurance and software development, releasing new software to expand Baxter's capabilities every few months.) The product's domestic roots are contributing to the company's popularity, Brooks says: "Our customers have a lot of emotional investment in that."
Hundreds of Baxters have sold nationwide, and the robot has been praised for its safety and affordability, among other things. Technology Review listed Baxter as one of 10 breakthrough technologies of 2013; Time named the robot a top invention of 2012. Rethink itself — named to Technology Review's most recent list of "disruptive companies" — has raised more than $62 million in funding.
**************************************
Professor Emeritus Rodney Brooks Refines the Sequel to iRobot

,