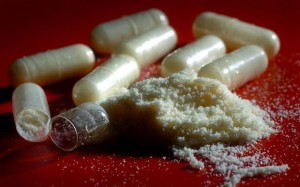 The recent deaths of four young adults suspected of taking a form of Ecstasy known as "Molly" highlights the risks associated with the synthetic party drug that is surfacing in nightclubs and concert venues around the Northeast.
Professor C. Michael White, head of UConn's Department of Pharmacy Practice, discussed the dangers surrounding Molly during this week's "Ask the Pharmacist" segment on FOXCT's Morning Extra news program. Watch the interview.
"MDMA or 3, 4-methylenedioxymethamphetamine, is the chemical name for Molly and Ecstasy," White says. "Unlike marijuana, MDMA comes in tablets or capsules that don't have an odor and are easy to hide. MDMA is a form of amphetamine, but it also has hallucinogenic properties. It increases the tactile responses to touch, sight, and sound."
MDMA also carries many of the same physical side effects as other stimulants like cocaine and amphetamines, which makes it dangerous, White says.
"For people with high blood pressure or heart disease (including congenital heart disease that they might not know about), they can get an arrhythmia, heart attack, or stroke from the amphetamine-like response," he says. It can also cause muscle breakdown and kidney failure, he adds.
MDMA can be distributed in its pure form or it may be mixed with other drugs.
"Adolescents and young adults need to understand that taking a tablet from someone else that is supposed to be Molly, Ecstasy, or anything else is risky because you don't know that it is not tainted with other ingredients which could be risky or toxic, how sensitive you are to the effects, and whether the dose is similar to the last time you took it or not," says White.
White and other UConn pharmacists are featured weekly on FoxCT's Ask the Pharmacist segment as part of the UConn School of Pharmacy's "Caring in Your Community" initiative. The segments are designed to provide important information about the latest drugs and medications, help people save money, and keep them informed about best health practices.
******************************************
Pharmacy Professor Discusses Dangers of Party Drug 'Molly'

,